UK Speaker blocks more votes on unchanged Brexit deal
May's Brexit plans were thrown into further turmoil when the speaker of parliament ruled that she could not put her divorce deal to a new vote unless it was re-submitted in the fundamentally different
19.03.2019 - 12:52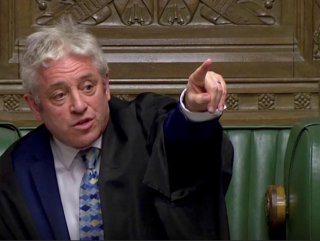 In comments that blindsided May's office, Speaker John Bercow said the government could not bring forward proposals for a vote in parliament that were substantially the same as had been defeated twice before, in January and last week.
"WE ARE IN A MAJOR CONSTITUTIONAL CRISIS HERE"
Brexiteers seeking a complete break from the European Union saw a "no-deal" exit as now more likely, but the government made clear it would seek to put off Brexit beyond the March 29 departure date, if the EU approves. One of the government's senior law officers, Solicitor General Robert Buckland, said: "We're in a major constitutional crisis here."
He told the BBC one way to bring May's deal back for a vote in the House of Commons could be prorogation - ending the parliament session prematurely and starting a new one. According to precedents stretching back to 1604, parliamentary rules say that substantially similar proposals cannot be voted on in the House of Commons more than once during the same session of parliament.
Bercow said his ruling should not be considered his last word and the government could bring forward a new proposition that was not the same as those already voted upon. The pound fell to its day's low against the euro and the dollar on Bercow's statement, before recovering when the government said negotiations on a deal were continuing with lawmakers from Northern Ireland, who prop up May's minority government and have opposed her withdrawal accord so far.
"This is my conclusion: if the government wishes to bring forward a new proposition that is neither the same, nor substantially the same, as that disposed of by the House on the 12th of March, this would be entirely in order," Bercow said. "What the government cannot legitimately do is to resubmit to the House the same proposition or substantially the same proposition as that of last week which was rejected by 149 votes," he added.