Trump's pick for UN ambassador withdraws nomination
US president will make announcement with respect to a nominee for UN post 'soon', says State Department.
17.02.2019 - 12:10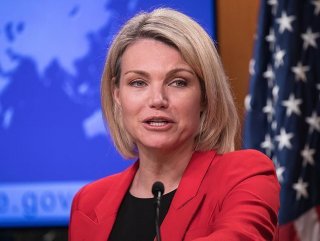 State Department said on Saturday that Spokeswoman Heather Nauert withdrew from consideration for the U.S. ambassador to UN.
Last December, President Donald Trump had announced he was picking Nauert for the UN job to replace Nikki Haley, but the formal nomination had not been sent to the Senate.
While announcing his decision on former Fox News host Nauert, President Trump said she was "very talented, very smart, very quick and I think that she will be respected by all."
"I am grateful to President Trump and Secretary [of State Mike] Pompeo for the trust they placed in me for considering me for the position of U.S. Ambassador to the United Nations," Nauert said in a statement.
"However, the past two months have been grueling for my family and therefore it is in the best interest of my family that I withdraw my name from consideration."
She entered the role of State Department spokeswoman in 2017 without any foreign policy experience and under her tenure, the Department dramatically scaled back its once daily press conferences to only a handful, at best, each week.
In the same statement, Pompeo praised Nauert for "unequalled excellence."
"Her personal decision today to withdraw her name from consideration to become the nominee for United States Ambassador to the United Nations is a decision for which I have great respect," said Pompeo.
Trump will make an announcement with respect to a nominee for the UN post "soon", according to the statement.