Israel army blows up W. Bank home of jailed Palestinian
Army dynamites family home of 16-year-old Palestinian accused of murdering Israeli settler.
18.01.2019 - 15:40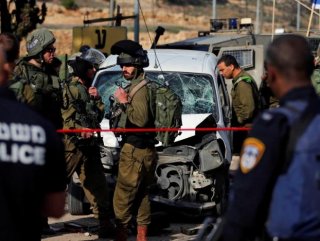 The Israeli army on Friday blew up the home of a detained Palestinian minor in the city of Al-Khalil (Hebron) in the occupied West Bank, according to witnesses.
CLASHES BETWEEN PALESTINIANS AND ISRAELI TROOPS
Witnesses told Anadolu Agency that a military force had stormed Al-Khalil's town of Yatta, where it dynamited the family home of Khalil Jabbarin, 16, who has been imprisoned by Israel since last September. The demolished two-story home had been inhabited by members of Jabbarin's family, witnesses said.
Before the demolition, clashes erupted between stone-throwing Palestinian youths and Israeli troops, who responded with teargas, rubber bullets and live ammunition.
The Israeli authorities accuse Jabbarin of stabbing an Israeli settler to death last September