Germany marks the anniversary of Berlin Wall's fall
German Chancellor Angela Merkel visited the memorial of the divided city.
09.11.2019 - 16:44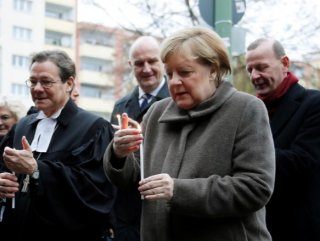 Germany on Saturday marked the 30th anniversary of the fall of the Berlin Wall that separated East and West Germany, with President Frank-Walter Steinmeier thanking Eastern European neighbours for enabling a peaceful revolution.
THE SYMBOL OF THE COLD WAR
The toppling of the wall, which had divided the Communist-ruled East and the capitalist West in Berlin for nearly three decades and became a potent symbol of the Cold War, was followed a year later by the reunification of Germany in 1990.
"Together with our friends, we remember with deep gratitude the events 30 years ago," Steinmeier said during a ceremony at the Bernauer Strasse Berlin Wall Memorial, which was also attended by Chancellor Angela Merkel and heads of state from Poland, Hungary, Slovakia and the Czech Republic.
"Without the courage and the will to freedom of the Poles and Hungarians, the Czechs and Slovaks, the peaceful revolutions in Eastern Europe and Germany's reunification would not have been possible," Steinmeier said.
During the ceremony, Steinmeier and the presidents of Poland, Hungary, Slovakia and the Czech Republic placed roses in a small gap in the remains of the wall at the memorial.