Turkey one of leading countries in making armed drones: Turkish president
Ankara pleased to share defense industry capabilities with friends, allies, says Recep Tayyip Erdoğan.
18.08.2021 - 10:54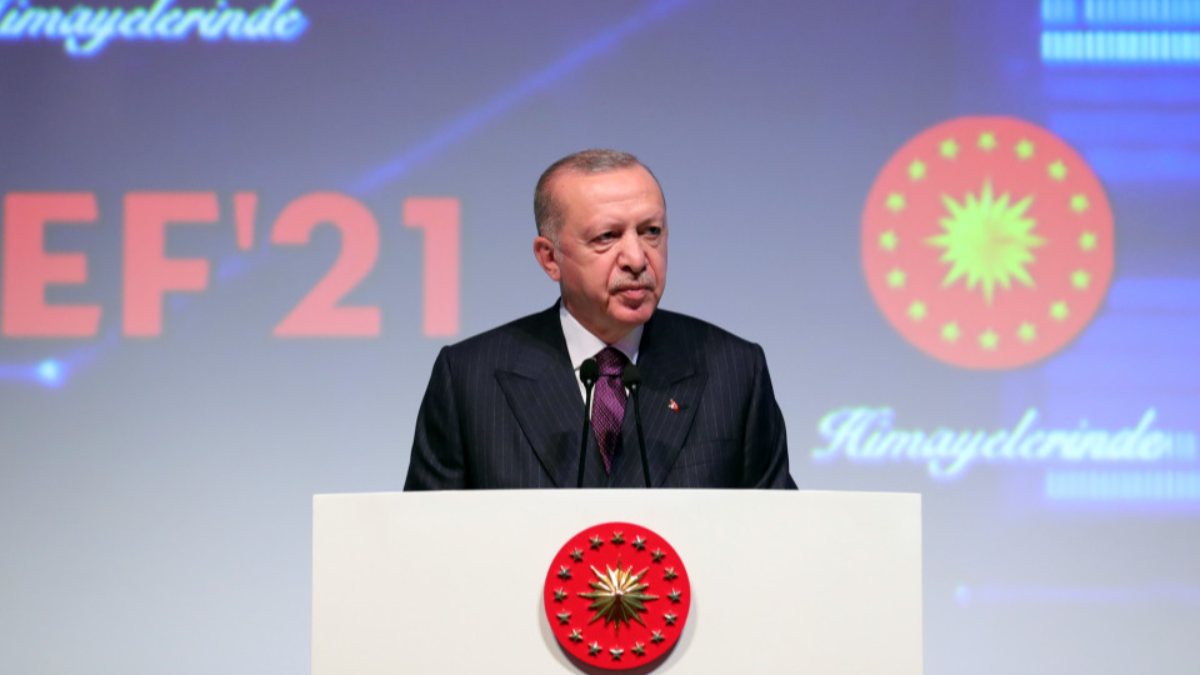 Turkey is among three or four countries globally that design, produce, and sell armed unmanned aerial vehicles or drones, the country's president said at a major arms fair in Istanbul on Tuesday.
Citing the country's overall development over the past two decades under the Justice and Development (AK) Party, Recep Tayyip Erdogan said Turkey is not only self-sufficient in terms of its defense industry, but also shares its know-how with its friends and allies.
Speaking at the International Defense Industry Fair (IDEF), one of the world's largest global defense events, Erdogan said Ankara is pleased to share all its defense industry means and capabilities with its friends and allies.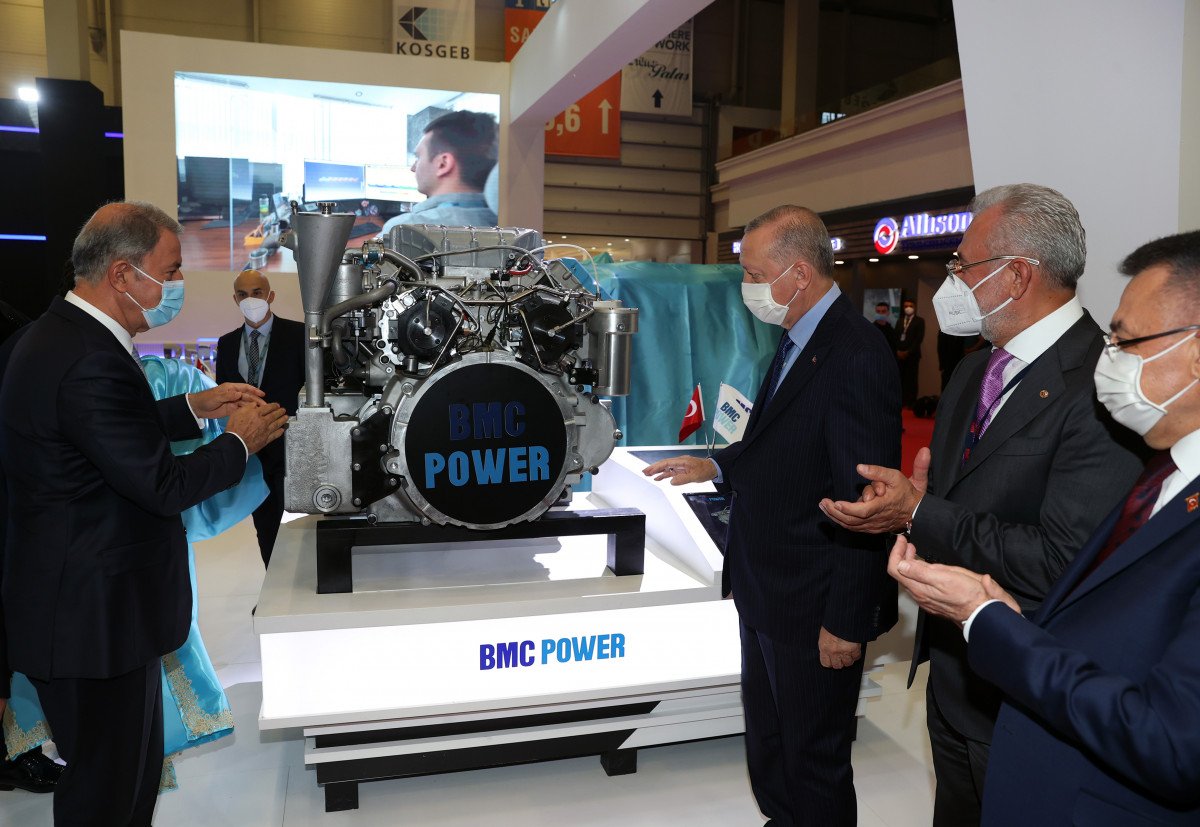 On the IDEF, he said agreements and protocols signed at the event show the fair's global importance. The 2021 IDEF fair is the richest yet for both participants and visitors, he added.
While the event hosted 1,061 firms last year, this year the figure reached 1,236, he underlined, saying the fair is also expected to top last year's 76,000 visitors.
TURKEY MOVED TO 'MEET ITS OWN NEEDS QUICKLIY'
Erdogan also underlined that by focusing on the defense industry, Turkey aims to overcome the difficulties posed by global suppliers, as well as "covert and open embargoes."​​​​​​​
"As a country that was forsaken at the most critical moments of its fight against terrorism and unable to acquire any product it needed while its borders were under threat, we were compelled to take steps to meet our own needs quickly," he explained.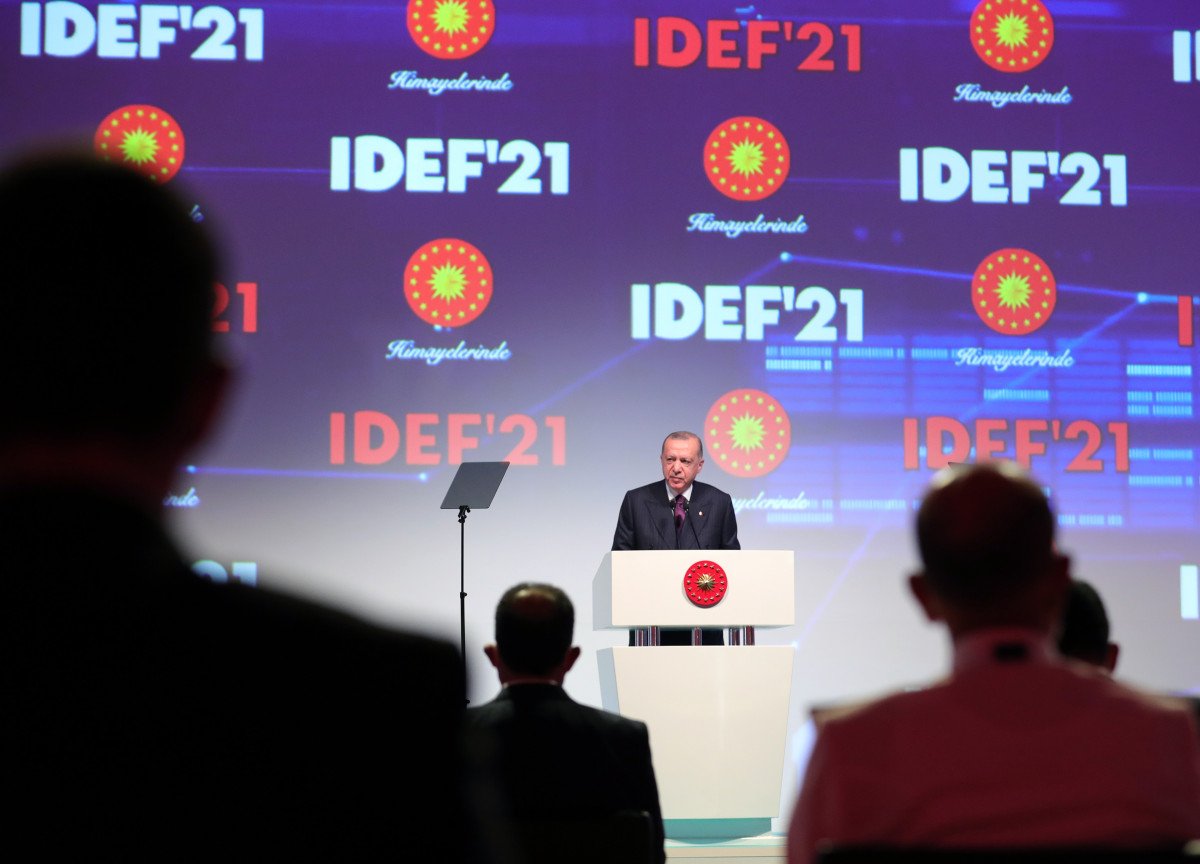 He said the country used its projects and products to secure its borders and to create a security zone in its region with cross-border operations.
Citing the idiom "If you want peace, prepare for war," Erdogan said this is the philosophy of the Turkish defense industry.
He also said: "We have never been, and will never be, one of those who rained bombs on people tens of thousands of kilometers away from their borders, under the guise of fighting terrorism.
"The mentality that sees a drop of oil as more valuable than a drop of blood has no value in our world."
Stressing that economic tools, claimed to be based entirely on profit and loss calculations, have been turned into weapons that serve political and ideological agendas, he said the defense industry is one of the most important tools of this distorted global order.
RAPID GROWTH OF DOMESTIC DEFENSE INDUSTRY
He stressed: "Beyond meeting today's needs in the defense industry, we invest in the technologies of the future.
"We produce ambitious projects, especially in the field of land, air, and sea vehicles, that work on the basis of artificial intelligence."
Turkey never sees defense industry contacts as ordinary trade relations, Erdogan underlined.
"We believe that the establishment of a climate of peace, stability and trust in our region and in the world depends on establishing a fair balance in the defense industry," the president highlighted, adding:
"As a leading member of NATO, the world's largest defense pact, we believe that our contribution to regional and world peace will increase as we develop our national defense industry."
The fact that many products that Turkey developed in national facilities are here at the IDEF is proof of the country's success, he stressed.
Telling how the Turkish defense industry significantly reduced the country's foreign dependence, Erdogan said while there were only 62 defense industry projects in the country in 2002, now there are 750.
The budget of these projects ballooned from $5.5 billion to more than $75 billion, while the number of defense firms grew from 56 to 1,500, with revenues soaring from just $1 billion to $11 billion, he added.
"Our defense industry now has its own unique products in a wide range thanks to its main contractors, which are among the world's top 100, plus subcontractors with advanced capabilities, SMEs, research institutions and universities," he said.
The country's defense industry exports also reached $3 billion from just $250 million, he said.
"One of the factors behind this success is that the budget allocated by the research and development (R&D) sector has increased from $49 million to more than $1.5 billion," he added.