Turkish spokesman responds Trump's tweet
Turkey on Sunday warned US President Donald Trump against conflating Syrian Kurds with the PKK terror organization and its Syrian affiliate, the PYD/YPG.
14.01.2019 - 09:41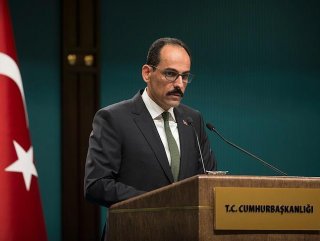 "It is a fatal mistake to equate Syrian Kurds with the PKK, which is on the US terrorist list, and its Syria branch PYD/YPG," Presidential Spokesman Ibrahim Kalin said on Twitter. "Turkey fights against terrorists, not Kurds. We will protect Kurds and other Syrians against all terrorist threats."
His remarks came in response to Trump's threat to target Turkey's economy if Ankara hits the terror group amid Washington's withdrawal of troops from Syria.
"TURKEY FIGHTS AGAINST TERRORISTS, NOT KURDS"
"Mr @realDonaldTrump Terrorists can't be your partners & allies. Turkey expects the US to honor our strategic partnership and doesn't want it to be shadowed by terrorist propaganda," Kalin wrote.
He reiterated that there is no difference between Daesh, PKK, or PYD/YPG and vowed Turkey will continue its fight against these terror groups.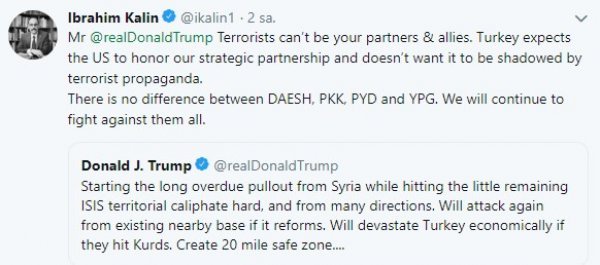 "Starting the long overdue pullout from Syria while hitting the little remaining ISIS territorial caliphate hard, and from many directions. Will attack again from the existing nearby base if it reforms. Will devastate Turkey economically if they hit Kurds," Trump said on Twitter, using another name for Daesh.
Turkish President Recep Tayyip Erdoğan has signaled that a cross-border operation against the PYD/YPG terrorist group in northeastern Syria will happen soon. Since 2016, Ankara has carried out two similar military operations in northern Syria.
In its more than 30-year terror campaign against Turkey, the PKK -- listed as a terrorist organization by Turkey, the U.S. and the EU -- has been responsible for the deaths of some 40,000 people, including women and children.