Turkish main-opposition municipality's scandal blacktopping
Turkish main opposition Republican People's Party's (CHP) Kartal district municipality has made a scandal blacktopping. A road with pitcher granite was covered with asphalt.
22.10.2018 - 17:54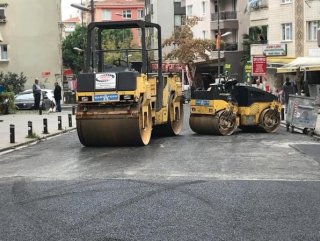 Republican People's Party leader Kemal Kılıçdaroğlu speaks of his party's municipalism ethics on all occasions.
UNESTHETIC PAVING
Footages of CHP's Kartal district municipality lays down a strip of asphalt has brought the urban planning problems to the light. In the photos taken, it's clearly seen that the old, original pitcher granite was covered with asphalt. The scandalousness paving disfigured the texture of the city.