Turkish flag flies in northern Iraq
Turkish Army that provides security against PKK terrorists in Iraq, has planted Turkish flag in Hakurk.
20.06.2018 - 14:39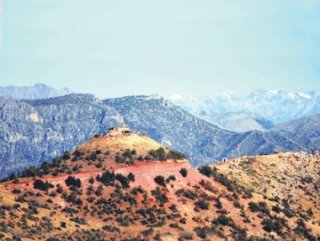 Turkish military continues its counterterrorism operations in northern Iraq by targeting PKK camps in the region since March 10. In recent days, Turkish officials had suggested that the Qandil region in northern Iraq near the Iranian border -- where the terrorist group has its headquarters -- may be the target of a future operation.
"QANDIL IS NOT A FAR AWAY TARGET FOR TURKEY"
Turkish Interior Minister Süleyman Soylu had made remarks about the counterterror operations in Hakurk region. "Qandil is not a far away target for us anymore. Our forces have secured crucial areas along Qandil-Hakurk line. The operation against PKK terror group in Qandil is a matter of time. I assure our nation that Qandil will be a secure place for Turkey soon" he had stated.
TROOPS PLANTED TURKISH FLAG
Turkish troops carry out an operation in Hakurk region, has cleared the area from terror forces and gained control over Hakurk.
The PKK is listed as a terrorist organization by Turkey as well as the US and EU. In its terror campaign against Turkey, which has lasted for more than three decades, over 40,000 people have been killed, including women and children.