Turkey's economy grows 1.6 pct in Q3
Turkish economy expanded by 1.6 percent year-on-year in the third quarter of this year, the country's statistical office announced.
10.12.2018 - 11:43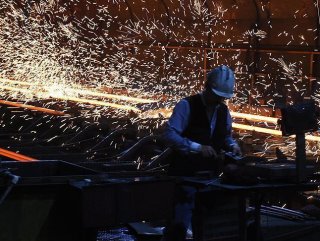 The Turkish economy grew 1.6 percent year-on-year in the third quarter of 2018, Turkish Statistical Institute (TurkStat) announced in a report Monday. The gross domestic product (GDP) increased by 21.8 percent and reached 1.013 trillion ($190 billion) Turkish liras at current prices, TurkStat said in a statement.
A group of 15 economists surveyed by Anadolu Agency on Friday had expected the Turkish economy to expand by 1.7 percent in the July-September period.
INDUSTRIES SECTOR EXPANDED 0.3 PERCENT
The fastest growing sector was serviced at 4.5 percent. The agriculture sector saw a 1.0 percent increase, while the industries sector expanded 0.3 percent.
"Seasonally and calendar adjusted gross domestic product decreased by 1.1 percent compared with the last quarter," TurkStat said. According to the TurkStat's revised data, the country's economy grew 5.3 percent in the second quarter and 7.2 percent in the first quarter.
Turkish government aims to reach an economic growth rate of 3.5 percent in 2020 and 5 percent by 2021 under its new economic program announced in September.