Turkish, US officials meet to discuss Syria safe zone
The US special envoy for Syria James Jeffrey was in Ankara this week for talks on the details of the safe zone in Syria.
24.07.2019 - 16:48
Establishment of a safe zone in northern Syria is only possible if Turkey's expectations are met, a top Turkish official told the US envoy to Syria on Wednesday.
TURKEY'S PRIORITIES FOR THE NATIONAL SECURITY
Turkey's presidential spokesman İbrahim Kalın and James Jeffrey met in the capital Ankara and discussed the proposal for a safe zone east of Euphrates River and recent developments in Syria, as well as counter-terrorism, particularly against Daesh and the YPG/PKK.
The meeting explicitly underscored Turkey's priorities for the national security.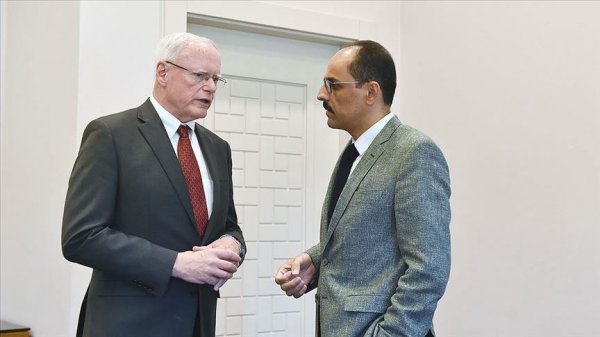 The Manbij road map, a long-awaited committee to revise Syria's constitution, and a political solution to Syria crisis ensuring the territorial integrity of the war-torn country were among the issues of the meeting.
Turkish official also said the cooperation between Turkey and the US regarding Syria should be based on trust and transparency.