'Turkey will make the region livable again for the 3.5 million Syrians'
Speaking to the heads of local governments in Ankara, President Erdogan said that Turkish Armed Forces are taking the region under control.
24.01.2018 - 15:24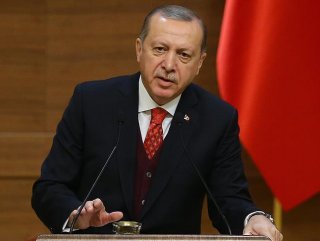 President Erdogan made a speech to the local officials at the presidential complex in Ankara.
"Turkey will first destroy the terrorists and then, after Operation Olive Branch is concluded, enable 3.5 million Syrian refugees in Turkey to return to their homes in safety." Erdogan said in his speech.
"OPERATION HAVE STOPPED THE GAMES OF DIFFERENT POWERS"
"By launching Operation Olive Branch, we have stopped the games of different powers who seek to implement their plans in our region. We will completely clear the region of terrorists, beginning with Manbij and throughout our entire border ensuring our security." he added.
President Erdogan stressed that Operation Olive Branch in northern Syria's Afrin aims to eradicate PKK/PYD and its armed YPG as well as the remaining Daesh elements.