The new 'Istanbul Airport's grand opening
The new airport is named as Istanbul Airport. The inauguration ceremony took place on Turkey's Republic Day.
30.10.2018 - 10:32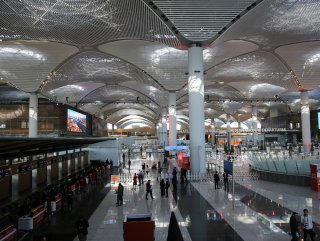 Istanbul Airport, the multi-billion dollar landmark project boosting the local and global economy.
The ceremony took place on Republic Day, the 95th anniversary of the founding of the Turkish Republic, with the attendance of President Recep Tayyip Erdoğan and more than 50 foreign leaders, ministers and high-level officials.
Built by a consortium of five contractors -- Limak, Kolin, Cengiz, Mapa and Kalyon, the project has been carried out through a build-operate-transfer model. It will provide over 26 billion euros ($30.65 billion) of revenue to the government.
Spread over an area of over 76 million square meters (818 square feet), the first phase of the airport will serve 90 million passengers. With the remaining phases to be completed by 2023, the airport is to sport six separate runways with a capacity of 500 aircraft, an annual 200 million passengers and open and closed carparks for 70,000 cars.
It will be home to the world's largest duty-free shopping complex. The 53,000 square meter shopping complex will consist of six sections, including luxury stores and bazaar concepts.