The Economist's scandal expressions
Turkish soldiers launching operations along Turkey's Syria border were portrayed as occupying forces by western media. The Economist showed Turkey's Hatay province as if it belonged to Syria.
19.09.2018 - 14:11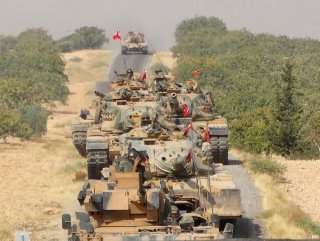 On Jan. 20, Turkey launched Operation Olive Branch to remove YPG/PKK and Daesh terrorists from northwestern Afrin. On March 18, Turkish troops and Free Syrian Army members liberated the town of Afrin, on the 58th day of the operation. After liberating the area from the terror group, the Turkish military has also been pursuing efforts to search and destroy handmade explosives and mines planted by the YPG/PKK terrorists.
"SYRIAN TERRITORY"
Turkey's rightful fight against terrorism is shown as an occupant force in the western media.
The Economist used scandal expressions in its "Russia defers one crisis in Syria, but is embroiled in another" headlined paper. The paper claimed that Turkey hived off 'Syrian territory' Hatay in the 1930s and added that Idlib will face with the same end.
"It fears that Turkey is reinforcing its troop presence and, as in Hatay province, another piece of Syrian territory Turkey hived off in the 1930s, may never leave. Mr. Assad might have an interest in stoking infighting among rebel factions to prevent Turkey from consolidating its hold." said the paper.