Stoltenberg: I hope we can find a solution over the S-400 issue
NATO Secretary General Jens Stoltenburg said Friday that Turkey's purchase of a missile defense system from Russia was Ankara's own "national decision."
15.09.2018 - 14:31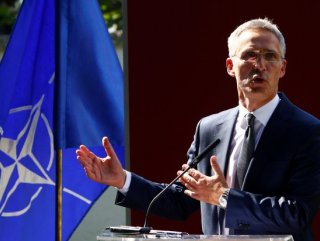 Speaking at a Heritage Foundation event in Washington, D.C. on Friday, NATO Secretary-General Jens Stoltenberg stated that as a member of NATO, he hopes that the alliance can integrate the new S-400 air defense missile system which Turkey will buy from Russia.
The NATO chief mentioned that for NATO the most important thing is "the different systems can work together."
BILATERAL NEGOTIATIONS
Over the questions about S-400 air defense system, "It's well known that Turkey and US have a disagreement over the issue." he stated. "I made several meetings with Ankara and Washington and I hope that we can find a solution. The disagreement that comes with Turkey's decision on buying air defense missiles from Russia is a hard one to resolve for all of us. I am pleased that Turkey and US negotiate over the situation." he added.
S-400 air-defense system WATCH
Underlining that Turkey's geographical importance, "If you look at the World map, you can see how big is Turkey. You can understand the importance of Turkey in fighting with Daesh." Stoltenberg stated.
Last December, Turkey announced it concluded an agreement with Russia for the purchase of two S-400 systems by early 2020.
In June, the U.S. Senate passed a bill prohibiting sales of F-35 jets to Turkey, citing the S-400 purchase.