President Erdogan calls for snap elections
Right after the statements made by Turkey's ruling party to evaluate calls for early elections, President Erdogan announced that Turkey will call an early election on 24 June.
18.04.2018 - 16:17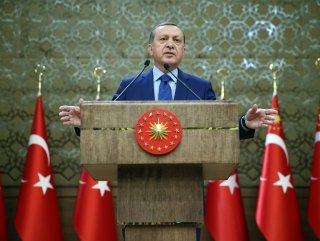 President Erdogan on Wednesday announced that Turkey will have snap elections on June 24, 2018, after a meeting with opposition Nationalist Movement Party (MHP) chairman Devlet Bahçeli at the presidential complex.
"Turkey's cross border operation in Syria and the situation in both Syria and Iraq obliged Turkey to overcome uncertainties as soon as possible. For this reason at the end of talks with Mr. Bahceli, we decided to hold elections on June 24, 2018 on Sunday." stated Erdogan.
"We are immediately launching the legal process regarding the matter, and without a doubt, Turkey's Supreme Election Board will also start preparations for the elections as soon as possible." he added.
Opposition Nationalist Movement Party (MHP) leader Devlet Bahceli on Tuesday had called for early elections in Turkey on Aug. 26. Speaking at his party's parliamentary group in capital Ankara, Bahceli had said that it should be known that the MHP wants early elections after the adjustment laws are enacted.
The main opposition Republican People's Party's spokesperson Bulent Tezcan had said that CHP is ready for elections to be held at any timein response to the Nationalist Movement Party (MHP) leader's call for snap elections.