PKK/PYD's black propaganda
Terror organization PKK/PYD posts fake images on social media sites to libel Turkey's ongoing military operation in Syria's Afrin.
23.01.2018 - 17:33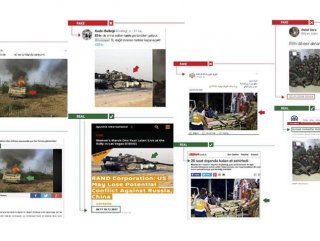 PKK/PYD members and their supporters posted images throughout the weekend on social media against the Turkish military and Operation Olive Branch in Syria's Afrin.
Article by Anadolu Agency showed the World how terror organization supporters twisted the facts.
Seven photographs, which were claimed to be taken during the operation in Syria's northwestern Afrin region, have turned out to be old photos that were taken during different incidents in the past.
Black propaganda against the Turkish military began soon after Turkey launched Operation Olive Branch in Afrin on Saturday to clear PYD/PKK and Daesh terrorists from the region.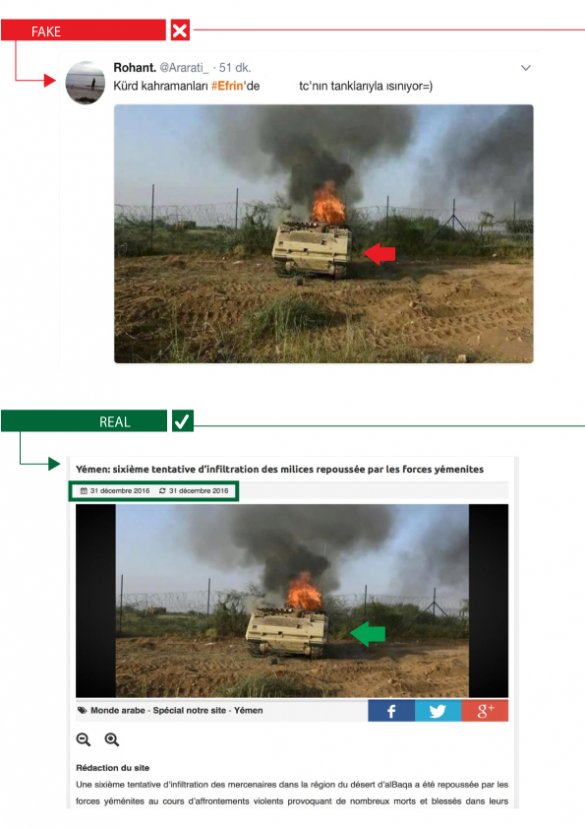 Two tank photos shared on Twitter claimed the "tanks belonging to the Turkish army have been burned"; however, the picture was from Yemen taken on Dec. 31, 2016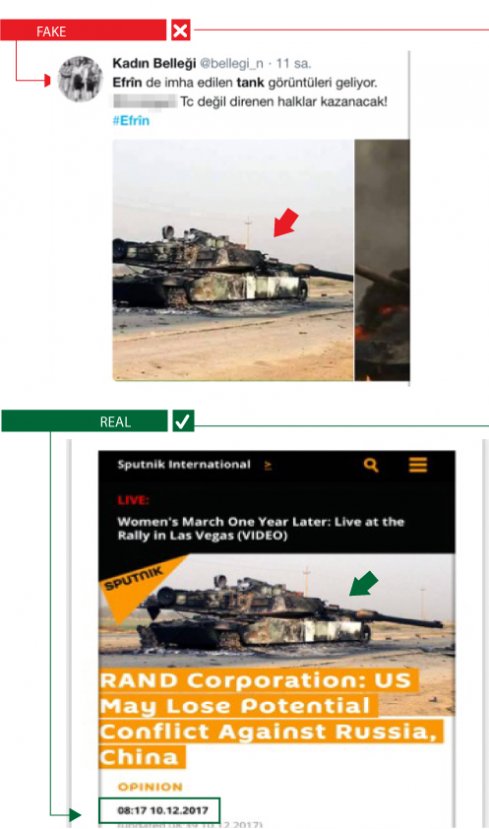 Tank picture with the same claim, dated Dec. 10, 2017, was used in a report titled "The U.S. could lose its power in a possible war with Russia and China".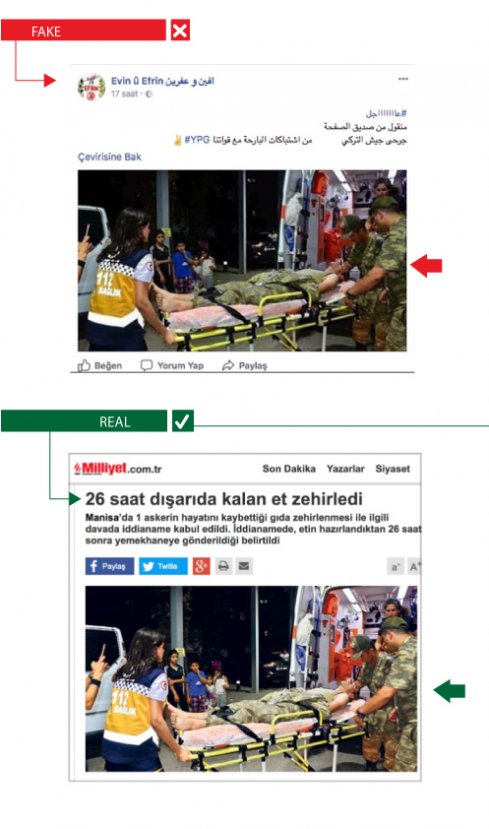 Image which shows a soldier on a stretcher was shared with the allegation that the "YPG hurt Turkish soldier" on Facebook; however, this image too is incorrect since it belongs to a soldier who suffered food poisoning in western Manisa province on Dec. 22, 2017.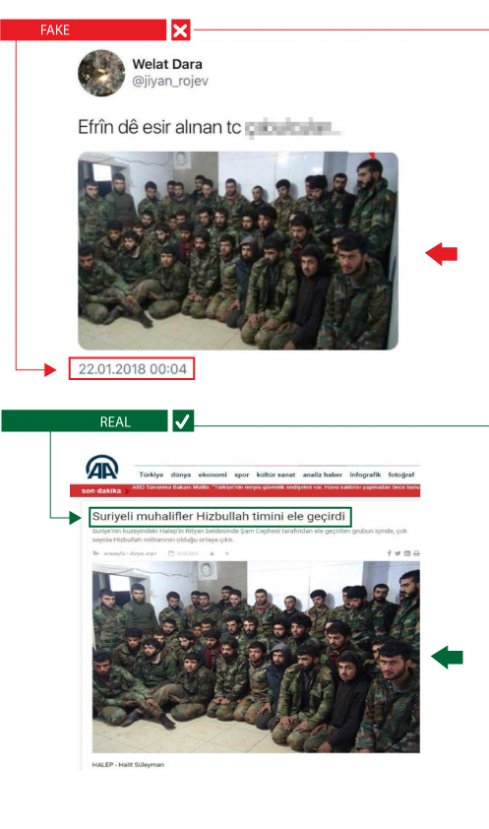 Picture shared on Twitter claims "Turkish soldiers taken prisoner in Afrin". But again this was untrue since the photo was originally taken from the news titled "Syrian opponents seized Hizbullah team" on Feb. 23, 2015.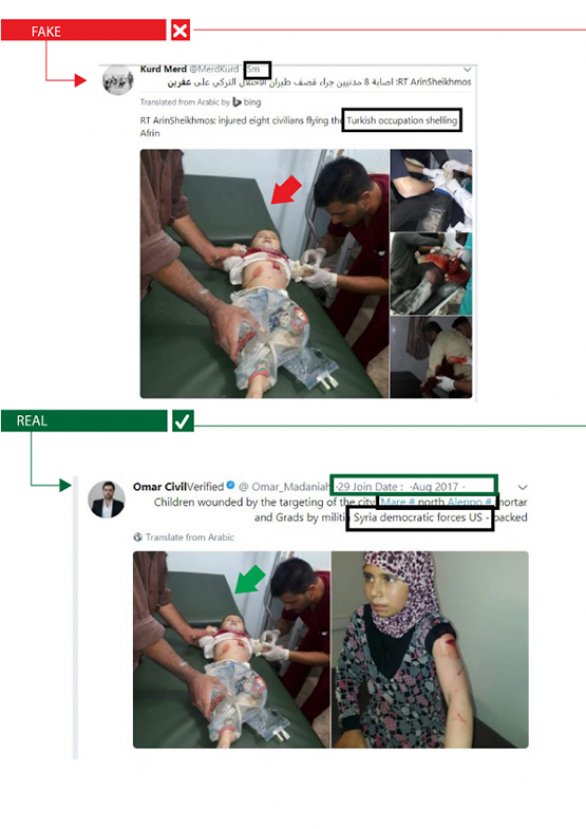 Picture shared on Twitter claimed "civilians are being targeted by Turkish army". It showed a child on a stretcher; however, it turned out the picture was taken on Aug. 29, 2017, in northern Syrian city of Mare during the U.S.-backed SDF/PKK attack.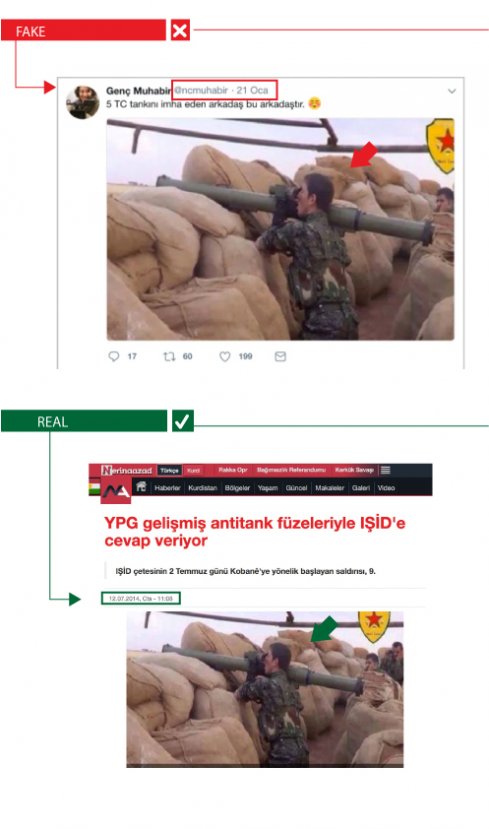 Picture shared on Twitter claimed it showed "destruction of five Turkish tanks"; however, the picture was from a PKK-backed website titled "YPG responds to Daesh with its improved anti-tank missiles" from July 13, 2014.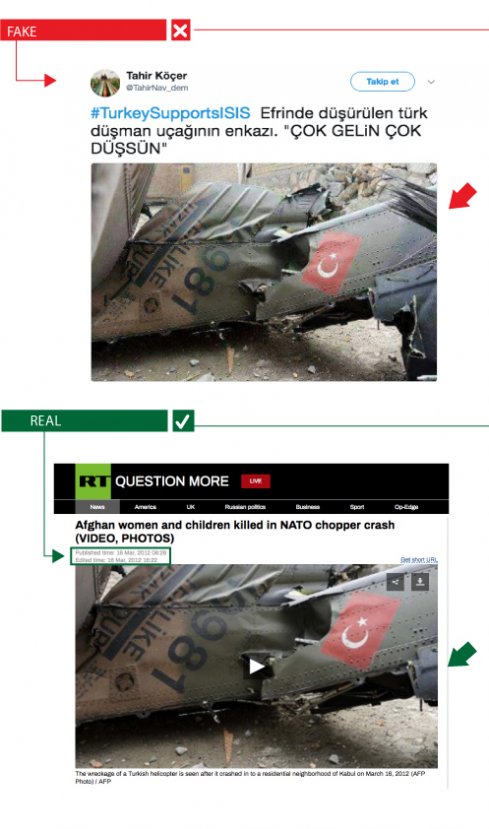 Photo shared on social media allegedly shows the "taking down of a Turkish helicopter by PKK in Afrin". This picture is actually from Afghanistan, taken on March 16, 2012.