Historical moments at Istanbul Airport
Istanbul Airport's first phase was officially opened on Oct. 29 on Turkey's Republic Day. The first take-off was officially conducted on today.
31.10.2018 - 13:12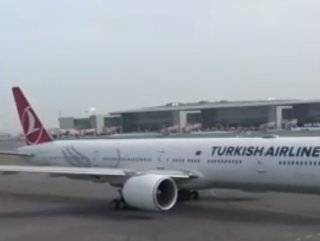 Turkey's flag carrier Turkish Airlines' first flight from new Istanbul Airport departed on Wednesday for the capital Ankara.

ISTANBUL AIRPORT TO ANKARA ESENBOGA
The TK 2124 scheduled flight took off at 11.32 a.m. local time [0832GMT] from new Istanbul Airport -- which will be the largest airport in the world when all the phases are operational -- to land on Ankara Esenboga Airport.
With Monday's opening, two runways -- stretching 3,750 and 4,100 meters long -- went into service as part of the first phase, including three separate airstrips.
The Transport and Infrastructure Minister Cahit Turhan and a number of journalists were among the passengers on board along with other passengers who arrived at the airport for check-in.
First flight at Istanbul Airport - VIDEO
THE BIGGEST AIRPORT
At full capacity -- with the completion of all four phases with six runways -- Istanbul Airport is set to become a global aviation hub by hosting more than 100 airlines and flights to over 300 destinations around the world.
The €6 billion ($7.2 billion) first stage, which was built in nearly three years through a public-private partnership model, is one of a series of mega-projects planned for Turkey's 2023 centennial.