Erdogan blasts Trump's threat to cut aid over UN vote
President Erdogan issued statements at an award ceremony performed at Presidential Complex.
21.12.2017 - 16:17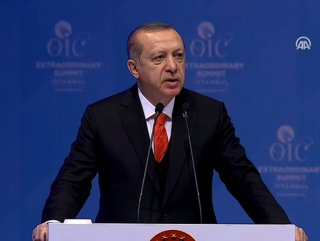 Erdoğan harshly criticized Trump's threat to cut aid to countries that vote in favor of a UN resolution denouncing his decision to recognize Jerusalem as Israel's capital.
"US IS LOOKING FOR WILLS CAN BE BOUGHT"
Speaking on an award ceremony "What do other countries call America? 'The cradle of democracy'. The cradle of democracy, US, is looking for wills can be bought with dollars. You can not buy Turkey's democracy will with dollars. I address to all countries around the World, do not sell your will. Money can be regain but will can not." stated Erdogan.
Trump had said Wednesday at the White House: "They take hundreds of millions of dollars and even billions of dollars, and then they vote against us. Well, we're watching those votes. Let them vote against us. We'll save a lot. We don't care."