Erdoğan and Putin meet in Tehran
Recep Tayyip Erdoğan, Vladimir Putin come together ahead of a trilateral summit in Iran
07.09.2018 - 14:07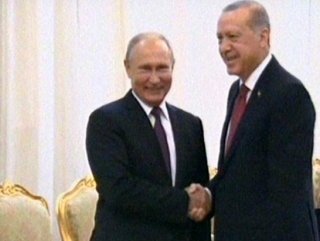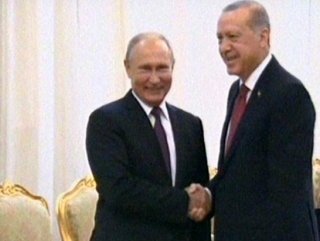 Turkish President Recep Tayyip Erdoğan and his Russian counterpart Vladimir Putin met on the sidelines of a Syria summit in the Iranian capital Tehran on Friday.
BILATERAL MEETINGS
The meeting came before the trilateral summit between Erdoğan, Putin and Iranian President Hassan Rouhani at the Sadabad Palace.
Before having met with Putin, Erdoğan also had a separate closed-door meeting with Rouhani.
SYRIA TOPICS
During a trilateral summit, the leaders will discuss joint efforts as part of the Astana process and political efforts for finding a lasting solution to the Syrian conflict.
The first tripartite summit was held in Russia's Black Sea resort of Sochi on Nov. 22 to discuss progress made in the Astana peace talks and changes in de-escalation zones across Syria.
THE PHOTO WHICH MAKES JEALOUS TRUMP
President of Russian President Vladimir Putin and President Erdoğan's sincere photograph gave a message of unity, especially in Syria. Social media users tagged Donald Trump as "Jealous Trump".
The second trilateral meeting was hosted by Erdoğan in April in the Turkish capital Ankara.