Details of Turkey's Canal Istanbul
Turkey continues its landmark projects, including an artificial sea-level waterway, Canal Istanbul, which will be parallel to the Bosphorus and will connect the Black Sea to the Sea of Marmara.
12.06.2018 - 16:47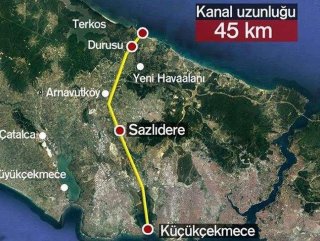 President Erdoğan frequently speaks of the Canal Istanbul project and during a television interview on June 8 he described the project as a "strategic" one. "It is a strategic project. One who does not understand Canal Istanbul project can neither understand Istanbul nor Turkey" Erdoğan said. Similarly, Prime Minister Binali Yıldırım also recently stressed that the Canal Istanbul project is indeed a "strategic project" rather than a "recreation project".
TRAFFIC RELIEF BETWEEN BLACK SEA AND SEA OF MARMARA
Canal Istanbul is strategic as it will not only provide relief to shipping traffic at the Bosphorus but also provide safe passage for the ships. The project is going to be the city's largest project and the construction of the mega project would begin in his new term after election.
The 45-kilometer (nearly 28 miles) canal, which will be built in Istanbul's Kucukcekmece-Sazlidere-Durusu corridor, is to boast a capacity of 160 vessels a day and is scheduled to be completed by 2023 at a cost of approximately $15 billion. The project is going to be built through build-operate-transfer finance model.
MORE MANEUVER SPACE FOR SHIPS
According to the information obtained by Anadolu Agency from Ministry of Environment and Urban Planning, the depth of the canal will be nearly 25 kilometers (16 miles) and the width will change from 250 meters to 1,000 meters allowing maneuver space for the ships.
The measurements of ships that would pass through the new Canal Istanbul have also been determined. In this context, a shuttle tanker with 275-meter length and 48-meter width would be allowed to carry maximum 145,000 deadweight tonnage (DWT), while A 340-meter long and 48.2-meter width container ship would carry maximum 120,000 DWT.