Chaos in Paris turns police violent
The protests turned violent as the security forces used tear gas to disperse the "yellow vests" in Paris.
26.11.2018 - 16:24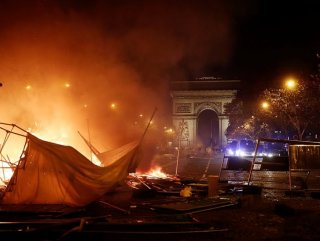 Violent clashes between police and protesters are ongoing in the French capital, with demonstrators protest rising fuel taxes and Macron's government.
POLICE VIOLENCE
French police made dozens of arrests across France amid violent anti-government protests described by one of the protesters as a "civil war,". Protesters were showered by water cannons as demonstrators clashed with police in central Paris.
A footage of a young demonstrator sits against a wall covered in blood as a someone sprays water from a bottle on his face to clean the wounds, bring police violence to light.
Chaos in Paris turns police violent WATCH
MACRON: "THERE IS NO PLACE FOR VIOLENCE"
So far, at least two people have been killed, over 750 people, including 136 security guards were injured and 693 people have been detained during one-week demonstrations.
Chaos erupts in Paris after protesters face-off against police WATCH
Over a thousand demonstrators also gathered in front of Elysee Palace calling for President Emmanuel Macron to resign. However, French president slammed the violent protesters, saying "Shame on those who attacked citizens, journalists and politicians" on Twitter. He said there is no place for violence in France.