Turkish, Russian leaders set for Moscow meet Wednesday
Recep Tayyip Erdogan, Vladimir Putin will meet on Wednesday in Russian capital Moscow
23.01.2019 - 11:31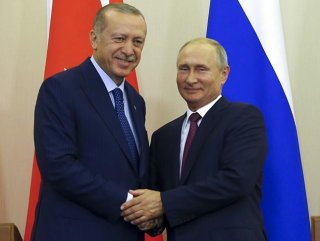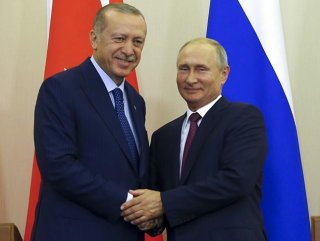 Turkish President Recep Tayyip Erdogan and his Russian counterpart Vladimir Putin are set to have their first face-to-face meeting of 2019 on Wednesday.
During Erdogan's one-day working visit to the Russian capital Moscow, the two leaders will exchange views on regional and international issues, particularly Syria, as well as bilateral relations between Turkey and Russia.
Prior to his visit, an article penned by Erdogan titled "Turkey-Russia cooperation, critical for resolving the crisis in Syria" was published on Russian daily Kommersant last week.
"We will not seek advice on how to deal with a terrorist group from anyone whose activities have been directed against our citizens for more than 30 years, or ask for permission to fight terrorism.
"We reserve the right, when the appropriate conditions will arise, to pursue terrorists who threaten our country from Syrian territory," Erdogan said in the article.
Erdogan stressed that Turkey had no problem with Syrian Kurds nor any other groups living inside the borders of the neighboring country.
Stating that the U.S. pullout from Syria was "a step in right direction," Erdogan said: "The Syrian crisis can be resolved only by those countries that benefit from the healing of Syria's wounds and be harmed by their festering."
In late December, U.S President Donald Trump announced that the U.S.-led coalition succeeded in militarily defeating the Daesh terrorist group, his "only reason for being there during the Trump Presidency", in Syria.
Emphasizing that it is time for American forces to return home, Trump later signaled a "slow and highly coordinated pullout" of U.S. troops from Syria following the suggestions of U.S. national security bureaucracy.
When Trump proposed the idea of a terror-free safe zone in northern Syria last week, U.S. officials demanded Turkey to guarantee that it will not conduct an operation against terrorist group YPG/PKK.
Turkey backed the idea of a safe zone in Syria, while it opposed the U.S. request for protection of the terrorists.
25 CONTACT WITH PUTIN 2018
Erdogan and Putin had seven one-on-one meetings in 2018 and 18 phone calls to discuss bilateral relations and regional developments, especially Syria.
The leaders first met in the Turkish capital Ankara, where they chaired the Turkey-Russia High Level Cooperation Council meeting on April 3, a day before a trilateral summit on Syria between the leaders of Turkey, Russia and Iran.
During the trilateral summit on April 4, Erdogan, Putin and Iranian President Hassan Rouhani stressed their joint resolve to oppose separatism as well as the use of terrorism as an excuse for changing Syria.
Erdogan, Putin and Rouhani are expected to meet in the upcoming months to discuss the situation in Syria.
ERDOGAN, PUTIN MEET AT 6 SUMMITS
A total of six summits saw the meeting of Erdogan and Putin in 2018.
Erdogan, Putin and Rouhani first met on April 4 in Ankara and on Sept. 7 in the Iranian capital Tehran for the trilateral meetings on Syria.
On July 26, Erdogan had a one-on-one meeting with Putin in Johannesburg on the sidelines of the annual summit of BRICS countries -- Brazil, Russia, India, China and South Africa.
On Sept. 17, the leaders met in the Russian coastal city of Sochi, where they agreed to turn Syria's northwestern Idlib province into a demilitarized zone.
On Oct. 27, Erdogan and Putin also met on the four-nation summit on Syria between Turkey, Russia, Germany and France in Istanbul, where German Chancellor Angela Merkel and French President Emmanuel Macron were also present.
On Dec. 1, Erdogan had talks with Putin on the sidelines of the G20 summit in Argentina.
TURKISH-RUSSIAN CO-OPERATION ON ENERGY
On April 3, Erdogan and Putin attended the groundbreaking ceremony of Akkuyu Nuclear Power Plant via a video conference call from the Presidential Complex in Ankara.
Akkuyu is set for construction by Russia in the Turkish southern province of Mersin.
The plant, comprising of four units, each with a capacity of 1,200 megawatts, will meet about 10 percent of Turkey's electricity needs.
S-400 MISSILE DEAL WITH RUSSIA
Turkey's decision to make a $2.5-million purchase of two S-400 air defense systems with four batteries from Russia culminated in an agreement signed by both sides on Dec. 29, 2017.
This led to strong opposition from the U.S. which stipulated that Turkey scrap the deal as a precondition to its own sale of Patriot defense systems to Ankara.
Turkey has vehemently rejected Washington's calls, with Erdogan saying on April 3 that the purchase was a decision for Turkey to make.
The S-400 is Russia's most advanced long-range anti-aircraft missile system and can carry three types of missiles capable of destroying targets including ballistic and cruise missiles.
The system can track and engage up to 300 targets at a time and has an altitude ceiling of 27 kilometers (17 miles).