278,000 Syrian refugees have returned home
Syrian refugees who fled from the civil war in their country and found asylum in Turkey started to go back to the zones that Turkey made secure.
15.11.2018 - 12:36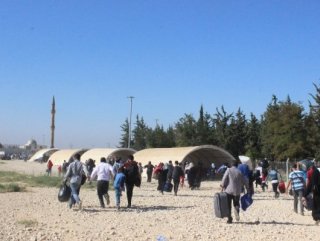 Turkey's efforts in northern Syria to establish stability, including successful counterterrorism operations, have enabled Syrian refugees living in the country to turn back to their homes to areas liberated from terrorist groups.
UNDER FAVOUR OF TURKEY'S SUCCESSFUL OPERATIONS
A total of 278,000 Syrian refugees returned to their homes, according to the Interior Ministry of Turkey, which is home to 3.5 million Syrian refugees. Approximately 278,139 of them returned to their homes in the successful Euphrates Shield Zone and Olive Branch operations, according to Interior Minister Süleyman Soylu. Soylu also noted there is a major contradiction in what great powers say and do regarding the refugee crisis, stressing that Turkey has set itself apart from other countries.
Turkey launched Operation Olive Branch on Jan. 20 to remove terrorists from northwestern Syria's Afrin. The Turkish Armed Forces liberated Afrin town center from terrorists on March 18. Following the operations, Turkey has been also involving efforts to rebuild the towns' infrastructure, as well as health and education institutions.